WELCOME TO
NEW ZEALAND
CHERRY CORP.
Home of New Zealand's finest quality fresh cherries
Please click here to see our promotional video in Chinese.
In New Zealand there is a region with soils and seasons that are perfect for growing cherries. It's called Central Otago.

The New Zealand Cherry Corp. cherry orchard and packhouse are based in Cromwell, Central Otago, in the Southern Lakes District of New Zealand.
Cherries are a delicate gift from nature, one that needs superior care and protection.
Our orchard team harnesses the purity of New Zealand's clean water, air and environment to produce the world's best cherries – fresh, large, juicy, and healthy. Our sophisticated grading and packing process ensures a minimum of fruit handling. Constant quality control from orchard to market ensures only premium cherries are selected for export.
Exporting throughout the world, our goal is always to deliver to our customers the very best premium quality cherries, packed and presented to the highest possible standards. New Zealand Cherry Corp. has the best possible international certification in hygiene and food safety standards. Every cherry can be traced right to the source.

A gift grown in New Zealand, for you.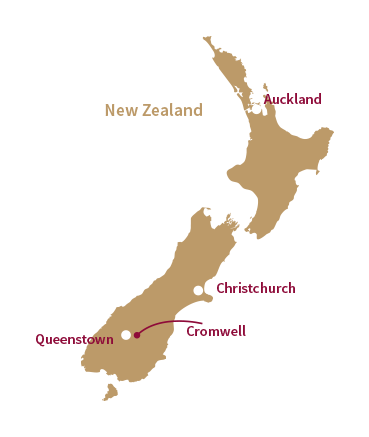 ORCHARD
Our 40 hectare cherry orchard is located in Cromwell and is New Zealand's largest and only fully climate-controlled netted orchard.
PACKHOUSE
New Zealand Cherry Corp. owns a state-of-the-art cherry packhouse with a 10-lane Compac grader.